Looking for a dish to spice up your holidays? Try this savory Mexican cornbread dressing (or stuffing as some people call it). You won't be disappointed!
Note: you can stuff this in the turkey or make it on its own. Either way is delicious!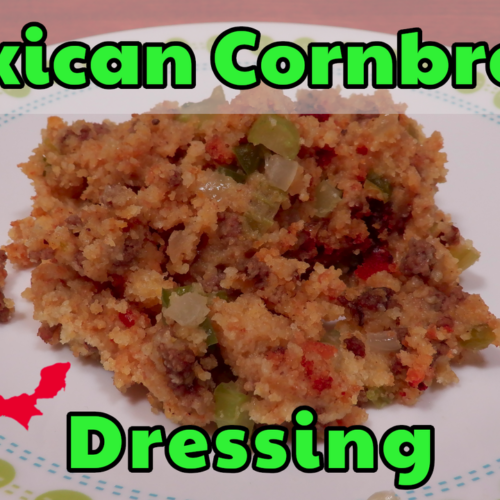 Mexican Cornbread Stuffing
Savory, easy, and uniquely delightful, this stuffing will be a hit at your next holiday celebration.
Ingredients
Cornbread
2 1/2

cups

all purpose flour

1 1/2

cups

corn meal

1/2

cup

sugar

2

eggs

4

tsp

baking powder

1

tsp

salt

2

cups

milk

1/2

cup

oil
Stuffing
1

pound

ground beef

3

stalks

celery

(finely chopped)

1

onion

(large, finely chopped)

1

bell pepper

(green, finely chopped)

1

tbsp

ground cumin

(or to taste)

1

tbsp

granulated garlic

(or to taste)

1

tsp

salt

(or to taste)

2

cups

chicken stock
Instructions
Prepare the corn bread
Grease a 9 x 13 baking pan.

Stir in egg, oil, and milk, stirring just until ingredients are combined.

Pour batter into prepared pan. Bake for 20 to 25 minutes until a toothpick inserted into the center comes out clean.
Prepare the stuffing
Cook the ground beef, breaking it up as you go. Drain any fat.

Break the cornbread up into a large bowl, making sure there are no large pieces.

Add the ground beef and vegetables and combine well.

Add the cumin, garlic, and salt and mix again.

Add one cup of the chicken stock. If the mixture still seems dry, add the other cup.

Turn out into the same baking pan you used to prepare the cornbread. Cover with foil and bake in a 350° oven for 1½ to 2 hours, or until vegetable are tender. (If you did not add the second cup of chicken stock, add it at any point if the stuffing still seems dry.)
Notes
If you are stuffing this into a turkey, simmer the giblets (except for the liver) until tender in several cups of water. This will take a couple of hours. Add the liver at the end and cook until it is cooked through, 10-20 minutes depending on the size. Chop the giblets, discarding any stringy or tough bits, and add to the stuffing along with the ground beef. Strain the cooking liquid and use in place of the chicken stock. Stuff the bird, and add any remaining stuffing into a covered casserole and bake alongside the bird.
Nutrition information is calculated based on 2% milk and 80/20 ground beef, and 16 servings.
For a different flavor, substitute some other form of meat for the ground beef. Mexican chorizo comes to mind, but you could also try any spicy sausage.
You can cook the cornbread up to two days in advance, and the recipe benefits from the cornbread having a chance to dry out a bit. If you have to prepare the cornbread the same day, break it into large chunks on a baking tray and place it in a low oven for 20-30 minutes until it has dried out a bit.
You can chop the vegetables 2-3 days in advance. You can also cook the ground beef ahead of time and store it in the refrigerator for a few days, or up to a month in the freezer.
Nutrition Facts
Mexican Cornbread Stuffing
Amount per Serving
% Daily Value*
* Percent Daily Values are based on a 2000 calorie diet.
What does a 2000 calorie diet mean?