Ages ago, I had lunch at a restaurant that is no longer in business. I ordered the split pea soup as an appetizer, and it came with celery and carrots. "That's interesting" I thought. I went home and tried to improve upon it, and ended up with peasant food at its very finest.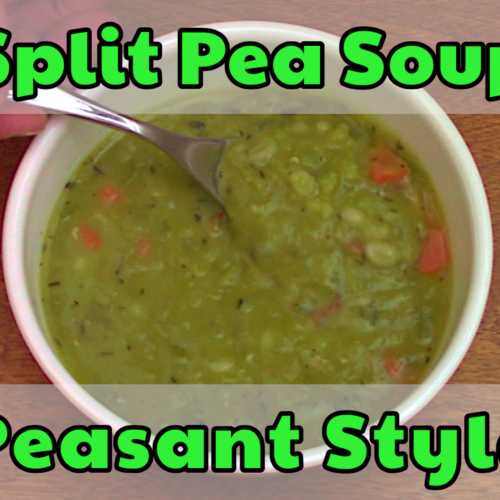 Split Pea Soup
Full of bacon, barley, carrots, and celery, this split pea soup satisfies with great flavor and texture.
Equipment
1 large pot or Dutch oven

1 cutting board

1 sharp knife

1 strainer
Ingredients
1

pound

split peas

(green or yellow)

2

slices

bacon

(chopped)

1

cup

onion

(finely chopped)

1

potato

potato

(peeled and grated)

¼

cup

pearled barley

5

bay leaves

1

tsp

dried thyme

8-10

cups

water

1

stalk

celery

(chopped)

1

carrot

(chopped)
Instructions
Add the bacon to a heavy-bottomed Dutch oven and cook over medium-low heat until it has rendered a fair amount of fat.

In the meantime, pick over your split peas and rinse them in a strainer.

Add the onion and sauté until softened but not browned, approximately five to ten minutes.

Add the potato and one to two cups of water. Bring to a boil.

Boil, covered, until the potato is soft and beginning to break down, approximately ten minutes.

Add the thyme and bay leaves, and stir to combine.

Add two cups of water, then the rinsed peas and barley.

Add an additional six cups of water. Stir, bring to a boil, then turn down to a simmer.

Simmer over low heat until the barley is tender and the peas are almost completely cooked. Be sure to stir every ten minutes to prevent sticking, approximately 40 to 60 minutes.

Add the carrots and celery. If necessary, add an additional 1 or 2 cups of water.

Continue simmering, remembering to stir every ten minutes, until the peas are completely cooked and the celery and carrots are tender. Adjust the seasoning, remove the bay leaves, and serve.
Nutrition Facts
Split Pea Soup
Amount per Serving
% Daily Value*
* Percent Daily Values are based on a 2000 calorie diet.
What does a 2000 calorie diet mean?